This is an international effort to study and report on what Australian farmers knew already that the cockatoo is reasonably smart, mischievous and can get into anything. Especially in grain growing areas some species of cockatoo can reach plague proportions, outmanoeuvre a farmers efforts to stop feasting on their grain crops in the fields and the harvested grain in bulk storage sheds.
In my area there is the sulphur crested cockatoo who just loves being destructive with that powerful beak. Too many times they will snip off a head of sorghum only to drop it on the ground. A beady eye will give the fallen prize a momentary consideration before the bird decides its too much effort to go after it and simply snips off another.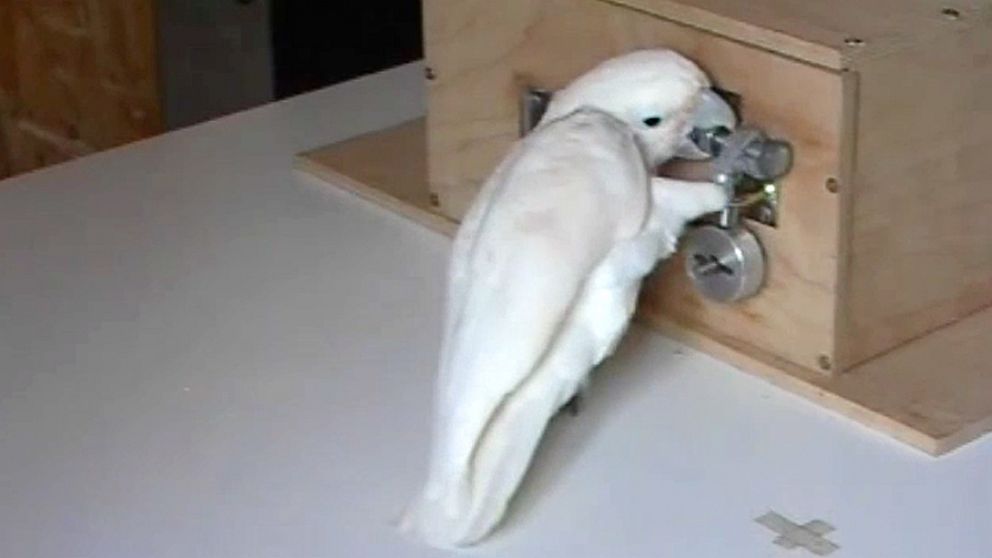 " A new study published in the journal PLoS One finds that cockatoos, members of the parrot family, can figure out how to break through several complicated locks to get to a treat. Alex Kacelnik, a professor of zoology at Oxford University and author of the study, said that the birds themselves were very playful and inquisitive. "They're particularly keen on exploring new things," he told ABC News.
Kacelnik and his colleagues, Alice Auersperg and Auguste von Bayern at the University of Vienna, placed a cashew nut behind a window fastened shut by a thin metal bar. The birds had to get through four additional locks that required them to pull a pin, turn a screw, remove a bolt, and rotate a wheel to reach the reward. More importantly, they had to do those actions in the correct order.

They were surprised at the cockatoos' flexible problem-solving skills. Regardless of the order of the locks, the birds worked through them one by one to get to the prized nut. "They're sensitive to how the problem is organized," he said. "They do whatever they have to do in the new circumstances."
The researchers may have been surprised but not the Aussie grain farmer who has on many occasions witnessed the crazy antics that many types of cockatoos can get up too and often their ability to be destructive.